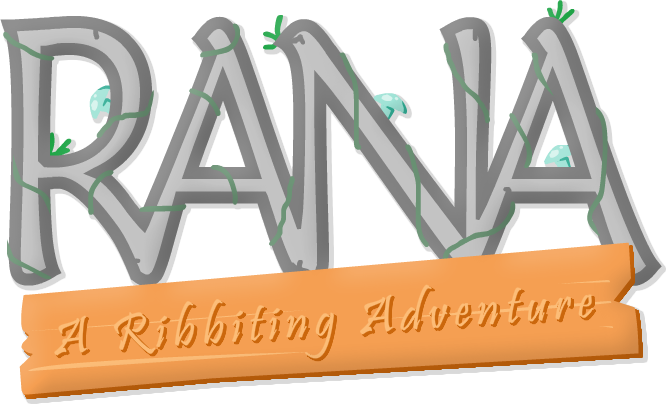 RANA: A Ribbiting Adventure
A downloadable game for Windows

Join Rana the Frog Prince on his quest to journey across the lands, defeat Madelyn the Mega Kitten and reclaim the castle!

One lazy morning, Rana the Frog Prince is unexpectedly kicked out his castle by the leader of a neighboring kingdom: Madelyn the Mega Kitten. Fallen from grace, Rana awakes only to be given a sassy talking sword that grants him the ability to talk to objects.
With his new-found companion, Rana must swing and platform across the lands, from frog villages to bee-infested ruins, to make his way back up to his castle, fight Madelyn and reclaim the kingdom!

This 3D third-person platformer pays homage to the 3D platformers of old, with collectables, secret items and breakable crates! Swing across ledges with your tongue, swipe your sword at oncoming enemies and spring hop from platfrom to platform!

This is a short game, likely taking under an hour for the average player to complete. RANA: A Ribbiting Adventure was created as a second year student project for Falmouth University's Game Development course.


Animator
Emily Ward
Artists
Charlotte Prichard
Connlan Omeara
Charlie Rigby
Jacob Scott Gill Donald
Robert Gray
Sam Curtis
Composers
Declan DP
TeknoAXE
Whitesand

Designer
Thomas Heintz
Programmers
Louis Foy
Tomas Mazurkevic

Currently, only the Windows build of the game is available. If you're unsure how to play the game once it's downloaded, here's a step-by-step guide:

1) Download, right click and unzip/extract "RANA.zip".

2) Open the "Rana" folder created.

3) Open "Rana, A Ribbiting Adventure.exe" and enjoy!

Comments
Log in with itch.io to leave a comment.
couldn't get it to run. just keep freezing after the intro narration.
I liked the backstory and had a pretty good experience with it. There are lots of little tweaks that can be made, with movement, combat especially, but overall, a nice project. :)